June 5, 2013
Use Tax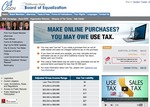 The California State Board of Equalization (BOE) continues to increase its enforcement of use tax reporting.  As part of that effort many of our clients have received notices from the BOE concerning their use tax liability.  Here is a brief description of use tax and how it might affect you:
What is it? Use tax is imposed on any out of state purchases for which sales tax was not collected.  This often applies to purchases made on the internet where sales tax is sometimes not collected by the vendor.  This also applies to purchases made out of the country and brought back into the United States.  The BOE now has direct access to customs declarations and can identify whether use tax was collected on those purchases.  More information about use tax is available here: http://www.boe.ca.gov/sutax/usetax.htm#page=Overview
How do I calculate it?  You can itemize your out of state purchases for which no sales tax was paid, and multiply by your local sales tax rate to calculate your use tax.  However, to save you the hassle of trying to gather this information the BOE allows taxpayers to make a "safe harbor" payment based on their income that will satisfy their liability for the year.  The rates vary from 0 to 0.07% of your adjusted gross income for the year.  The 2012 use tax safe harbor table is here: http://www.boe.ca.gov/info/use_tax_table.html
How do I pay it? You can pay your use tax liability online at the BOE website.  Alternatively, you can pay your liability with your California tax return.  We typically address use tax with each of our clients to make sure they are sufficiently paid in with their return.
If you have any questions please do not hesitate to contact us at 415.362.5990.